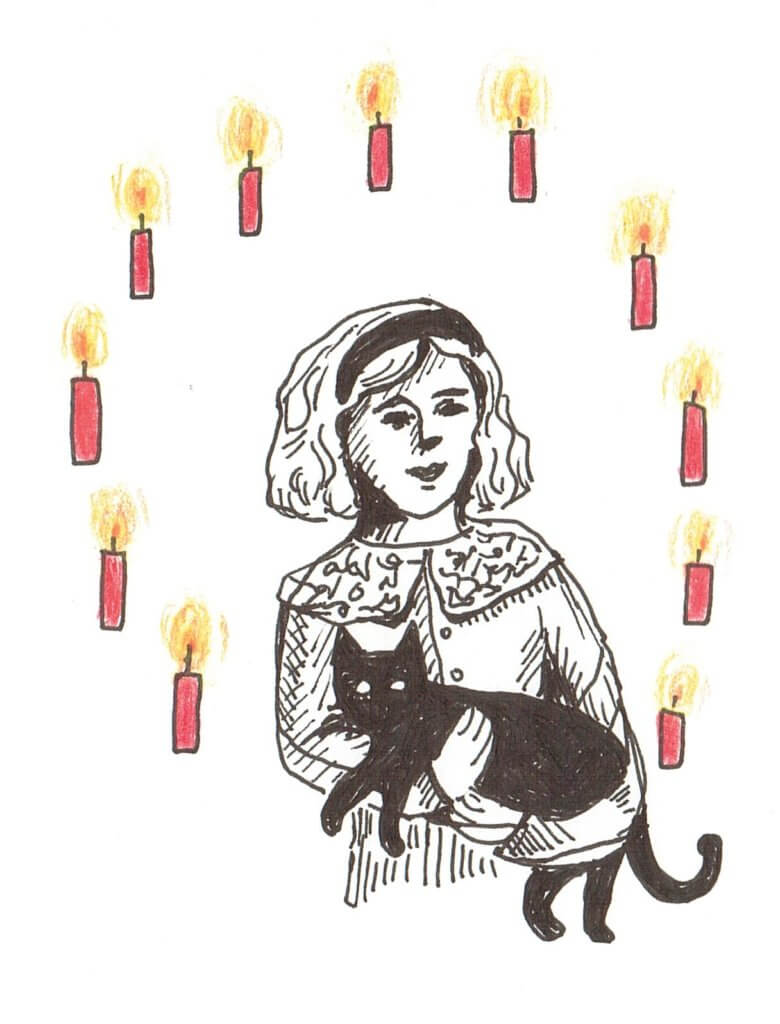 Given the popularity of Riverdale, it wasn't surprising when Netflix reached their hand into the Archie Comics universe to see what else they could do a dark and gritty reboot of. When they announced it would be a series about teenage witch Sabrina, the Internet was scandalized. Sabrina the Teenage Witch is a classic late-90s show for many people, with Salem the cat being the most iconic image of the original sitcom – and in this adaptation he wouldn't even talk! What was the point?
The point was that they'd have a guaranteed audience. Not only is Sabrina headed up by the Riverdale showrunners, but it takes more cues from the recent graphic novel that The Chilling Adventures of Sabrina shares a title with. Plus, Sabrina is a character in the Archie Comics universe, which continues to have many fans clamouring for a crossover episode. While there haven't been any yet, both shows are shot in Vancouver and Sabrina has many Easter eggs for fans of its sister show.
The first season starts in the days leading up to the 16th birthday of one Sabrina Spellman (Kiernan Shipka of Mad Men fame in a role she was born to play) which is, of course, on Halloween. While Sabrina wants to have a normal sweet sixteen party with her friends Roz (Jaz Sinclair), Theo (Lachlan Watson) and her boyfriend Harvey Kinkle (Ross Lynch), the part of her life that she can't talk about – that is, the witch part – has other plans for her. Her 16th birthday is also the day of Sabrina's dark baptism, where she will not only officially become a member of her coven and be able to start her studies at the Academy of Unseen Arts, but also sign her name in the Book of the Beast, which would fully separate her from her mortal life. Sabrina doesn't do it initially, however.
Sabrina is half-mortal, half-witch, and since she's grown attached to her mortal life, she doesn't want to sever all connection with it. The first season sees Sabrina struggling to balance both sides of her life without leaving complete chaos in her wake, which is hard when you're a teenage witch. Helping her keep this balance are her aunts Hilda (Lucy Davis) and Zelda (Miranda Otto), cousin Ambrose (Chance Perdomo) and Mary Wardwell (Michelle Gomez), who isn't fully what she seems.
The new version of Sabrina Spellman is certainly darker and takes plenty more risks than the original sitcom thanks to it being on Netflix and not a cable television network. The show as a whole deals with aspects of Satanism and, because the first season is so exposition-heavy, they aren't subtle with it at all. This intense focus balances out a little in the second season, but in season three, which just recently came out, the show spends an even amount of time between the mortal realm and hell itself. They literally go to hell.
Shipka is the clear standout in this cast. She makes everything that Sabrina does involving witchcraft and Satanism seem not only believable, but also normal. The show as a whole does an excellent job of transporting viewers to the creepy little town of Greendale, while also ramping up the stakes and the amount of magic power Sabrina can wield each season. Shipka's version of Sabrina is smart, snarky, sympathetic, and isn't about to play by anyone's rules but her own (much to the chagrin of Aunt Zelda). When I watched the first trailer back in 2018, I was unsure about the show, but the moment that made me stick with it was seeing Sabrina, having almost gone through with the baptism before backing out, telling the coven "My name is Sabrina Spellman, and I will not sign it away!"
The show is also a standout favourite of mine for its LGBTQ2+ representation. Watson is non-binary, and the character they play, Theo, is transgender – a delicate subject that the show handles with a lot of grace and understanding. Ambrose is also canonically pansexual and enters a relationship with a fellow warlock despite being under house arrest during the first season. While Theo's gender discovery does dominate his storylines in the first and second seasons, it never feels drawn out or mishandled.
The writers of the show do an excellent job winding the usual teen drama of relationships and high school with the occult aspects of the show. While the darker, dramatic themes of shows like Riverdale can come across as cringey and poorly written, the writing of Sabrina doesn't. It fits with the tone of the show, knows what it is and embraces that fully.
The Chilling Adventures of Sabrina kept some aspects of the original sitcom and comics, yes, but has also taken some darker, more adult cues from the graphic novel and modern teen dramas. With a standout cast, some interesting visual effects, and themes of balance and duality running throughout the 24 episodes currently available, Sabrina is sure to cast a spell on anyone who chooses it as their next binge.