Ensler's classic feminist play invokes tears and laughter
"Vaginas deserve a lot more credit but they also deserve to speak more," said Kawama Kasutu, a second-year sociology major who performed in the show. "It's about time the vagina speaks and it's about time we speak about it and for it and for ourselves." She described the show as a learning experience for both performers and audience, as they listen to issues that they might not be aware of themselves.
The Vagina Monologues was performed last week in the Wu Centre. The piece, which is a series of monologues covering different issues that affect people with vaginas, was written by Eve Ensler in the 1990s. Unfortunately, many of the issues Ensler was writing on then are still relevant now.
The Vagina Monologues premiered in 1996, and was originally performed entirely by Ensler. Later versions featured multiple actresses in the different roles, as well as revisions and additional monologues. Ensler wrote the monologues based on interviews she had with women about their vaginas, their views on sex, and violence against women. The opening monologue notes that women loved to talk about their vaginas when asked. Over the years new monologues exploring different issues were added, such as They Beat the Girl Out of my Boy … Or So They Tried, which describes a woman's struggle with her assigned gender identity. Ensler later established V-Day, an organization that strives to end violence against women around the world.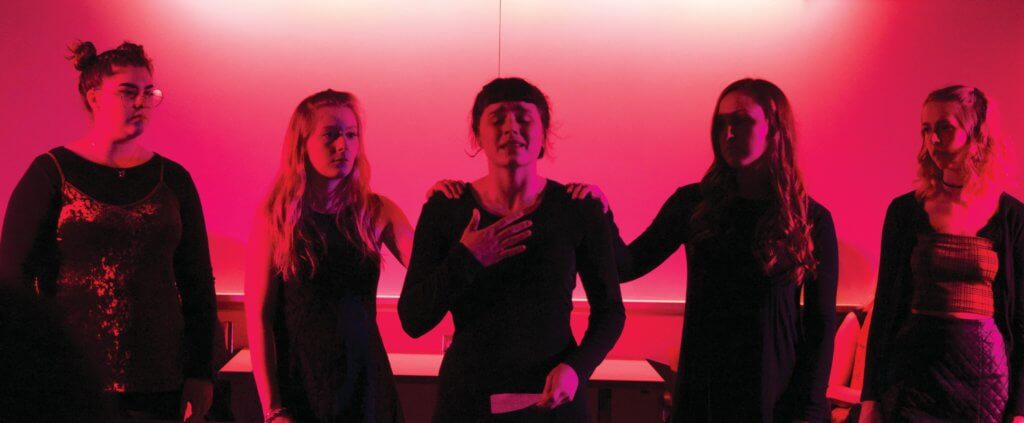 Although this was her first time in The Vagina Monologues, Alexandra Duchemin, a fourth-year student in honours English, undertook the task of organizing the production this year after hearing that no one else intended to do so. "It's ridiculous to think that a lot of these issues, even though the play is 20 years old, are just as important today and just as crucial," she said. "We cannot let women's rights be taken from us; we need to constantly be fighting for them."
Kelsey McCammon, a second-year drama major, also performed in the show. She noted that there is a stigma against talking about sex and vaginas, something she has noticed just within her friend group. "I don't think there's really an educational system that tells you, 'This is your vagina, this is what it looks like,' " she said. "I think it's important to attend this [show] so you know what other people are going through and you know that you're not alone with the things that you're going through."
The show has a nice balance of humorous and serious monologues from a wide range of voices, including those of a six-year-old girl, a woman attending a vagina workshop, and a sex worker who loves hearing women moan. Performers in the show read from cue cards rather than memorizing their lines, to remind the audience that these are real stories.
[su_carousel source="media: 10255,10256,10253,10252″ link="image" target="blank" width="1200″ height="540″ responsive="no" items="1″ title="no"]
Everyone who performs in The Vagina Monologues is encouraged to write and add their own skits to the show and add their story to the narrative. McCammon did just that, writing a monologue about her experience with sexual assault. In our interview, she stressed the importance of sharing these experiences with others, and mentioned that someone had come up to her afterwards and said, "I'm so glad you did that, because I could never talk about it and it makes me feel better about what happened because you did it."
Ninety per cent of the proceeds of the show went to the South Eastern Sexual Assault Centre in Moncton, which offers counselling and support to survivors of sexual assault.