Musical theatre society stages a fresh take on the 'New Yorker's' famously macabre family
If you were to stop in at Convocation Hall before Jan. 27, you'd be greeted by a looming two-storey purple set, a torture rack and a crossbow. You'd also meet the death-loving Addams clan and their ancestors, including a dead bride, a hippie and a saloon girl.
However, these torture instruments and ghosts are no cause for alarm. They're integral parts of Garnet and Gold Musical Theatre Society's current production of The Addams Family. The musical, which runs from Jan. 25 to 27, follows the iconic family from the original New Yorker cartoons and the 1990s films. In this adaptation, the family must contend with a new issue: daughter Wednesday has changed. She's fallen in love with the straight-laced Ohioan Lucas.
"There's something wrong with Wednesday," says matriarch Morticia Addams early in the show. "She's in the kitchen smiling."
Last weekend I sat in on rehearsal as the cast, directed by Karen Valanne, worked through the show to fine-tune stage pictures, correct lines and drill harmonies. At one point, specific attention was given to a crossbow trick shot, causing Michael McCracken, who plays Lucas Beineke, to exclaim, "That's the magic of theatre!"
According to Emma Hudson, the society's secretary/treasurer and a member of the ensemble of ancestors, this macabre magic is what initially attracted the society's executive team to the show.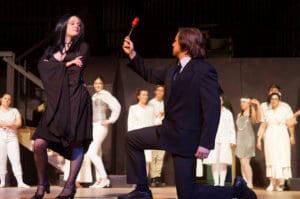 "We wanted to do something completely different," she said. Recent G&G productions have included Anything Goes, Tarzan and, most recently, Legally Blonde. Though last year's fashionably pink romp showed the society's more mature side, Addams is a darker departure. Still, there are classic themes buried under torture, potions and monsters under the bed.
"It's a show about family and about love," said Emily O'Leary, who plays Wednesday Addams, "even underneath all of the spooky ridiculousness."
This sentiment was echoed by Kaye Klapman, the society's VP External and show's assistant vocal director.
"It tells the kinds of stories that everybody knows or has experienced in this really interesting, funny, kind of cartoony context, so it takes the sting out of them," she said. "You can really relate but also enjoy the funny elements and the drama and the big blowout numbers."
The show's core focus on the importance of family and friendship can be found amongst the cast themselves.
"The cast is great. Everyone's fun to work with," said Grayson Kenny, who plays Gomez.
O'Leary echoed this sentiment. "It's really nice to make a whole new theatre family away from home," she said. "[Garnet and Gold] definitely made the social aspect of coming to a new place easier because immediately I just had a whole new group of friends, and that was great."
Perhaps this tight-knit energy has led to McCracken's favourite part of the Addams Family process: "the energy and the dedication."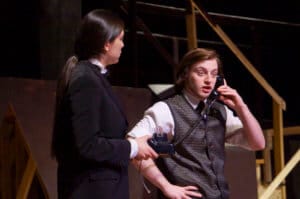 "Everyone's been keeping their spirits high and has been helpful," he said. "You get people that have been coming and building sets that are also members of the cast."
Hudson also highlighted the final stages of rehearsal as the most exciting. "The way it comes together every year is just thrilling," she said. "The vibe of everyone being so excited is the best part."
If you'd like to meet the Addams Family, visit them from Jan. 25 to 27 at Convocation Hall. Advance tickets ($10 for students/seniors, $12 for non-students) are available at the MASU office, Tidewater Books and Jean Coutu. $12 student/senior tickets and $15 non-student tickets can also be purchased at the door.