An exciting weekend full of reunions, discussions, and reminiscence
Campus was bustling this weekend with generations of the Argosy family wandering about campus and reminiscing about their time as students. Alumni, students, Mt. A faculty, and staff gathered to celebrate the 150th anniversary of The Argosy, and it was a great success. There were four talks organized by the Argosy 150 Planning Committee, alongside a celebratory banquet to conclude the weekend.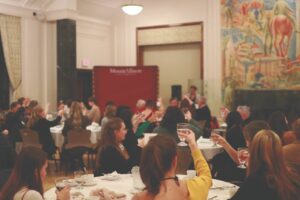 Environmental issues and their relationship to journalism was a major theme emerging from this weekend's discussions. Bill Lahey ('83) kicked off the events by discussing forest practices in Nova Scotia. As a former Argosy alumnus and current President and Vice-Chancellor and Professor of Law at the University of King's College, as well as Chair of the Board of Directors of Efficiency Nova Scotia, his experience with environmental policy-making was well-rounded and invaluable to those involved in the discussion.
Mt. A was also fortunate enough to welcome The Washington Post's editorial cartoonist Mike de Adder ('91, LLD '20) to discuss his time as an Argosy cartoon editor and how his career has evolved after graduation. He claimed in this exclusive interview with fourth-year international relations student Ainsley Cunningham that "I wouldn't be a political cartoonist if it wasn't for The Argosy."
De Adder was full of advice to share with the audience as well. In regards to finding equilibrium between political correctness (which he noted was a misleading term; he prefers "decency") and going over the line, he said he continues to find it by simply "bumping into the line" and learning from his mistakes. 
As for what led de Adder to his success as an artist? Obsession. "You've gotta be obsessed. If you're an artist, you have got to be obsessed." He noted that without constantly creating and working on his drawings, it was unlikely he would have been as successful as he has been in his career. He added that "if you're a dancer you have to dance all the time, if you're a drawer you have to draw, if you're a writer you have to write. You have to just do it."
William Wolfe-Wylie ('07) presented a live demo of his work as a data journalist for national media organizations including CBC. He deconstructed Toronto Metropolitan University's security reports and reorganized the data to find patterns that are otherwise overlooked—in other words, news stories. Wolfe-Wylie also shed light on some other projects he has worked on as a data journalist, including looking at police violence data in Toronto and tracking TicketMaster pricing and manufactured scarcity to up sales (check about halfway between the first ticket sales and the date of the concert for the best ticket price, if you're wondering). 
Wolfe-Wylie highlighted that his passion for data journalism derived from finding the unreported patterns hidden within uninterpretable data, like hundreds of PDFs, incomprehensible terminology, or data spread throughout thousands of sources. Data journalism opens opportunities for even the least technically skilled person to use basic coding and find stories that shed light on problems within society and the culprits behind them. 
The environmental journalism panel on Saturday featured Bill Lahey and William Wolfe-Wylie alongside Linda Pannozzo, an award-winning author, freelance journalist, and fiercely passionate voice on environmental issues. The event was moderated by Erica Butler, an Argosy alumna and current News Director at CHMA, the campus-community radio station. The panel  highlighted what Lahey described as the "critical importance of journalism in the climate change discussion." He credited journalists  with being the main source of criticism and means to gain political traction on environmental issues. Journalists were noted by all three panelists as champions of garnering support and educating the public on governmental and corporate decisions which may not have otherwise been shared with the population.
All panelists echoed their contempt for the flawed model of breaking news in journalism. Demanding one-time event coverage in the media limits the ability of journalists to dig deeper into issues, leaves gaps in topics such as environmental journalism, and leads to deficient conclusions and criticisms on these topics.
"We can't silo issues." Pannozzo explained how the breaking news model promotes short, separated, shallow understandings of the world rather than dissecting the intersecting natures of topics like the climate, government policies, political landscapes, the corporate world, and the industrial capitalist structure that requires infinite growth on a finite planet. 
The weekend ended with a bang; an estimated 60 people attended the banquet donned in their finest clothing. Entertainment consisted of speeches by Wolfe-Wylie, de Adder, current Co-Editors-in-Chief Mira Donaldson and Islay Fraser, Director of Alumni Engagement Carolle de Ste-Croix, and a historical overview of interesting (and sometimes illegal) Argosy involvement in campus pranks by University Archivist David Mawhinney. 
Despite decades of difference between the individuals involved in the events this weekend, everyone agreed on one thing: The Argosy was, and remains, a catalyst for inspiration that transcends time, offering students the opportunity to explore roles as advocates, writers, artists, educators, and leaders with the safety net of making mistakes as a student journalist. 
The passion for The Argosy embedded in each event was incomparable to any academic or work setting the average student like me has ever experienced. Simply put, The Argosy sparked a lifetime passion for storytelling in its alumni, to the point that decades, distance, nor day jobs could stop them from returning to their alma mater for the sesquicentennial celebrations and extending their thanks for the impact the paper has had on their lives.