Students gain life and work experience through internship programs in New Brunswick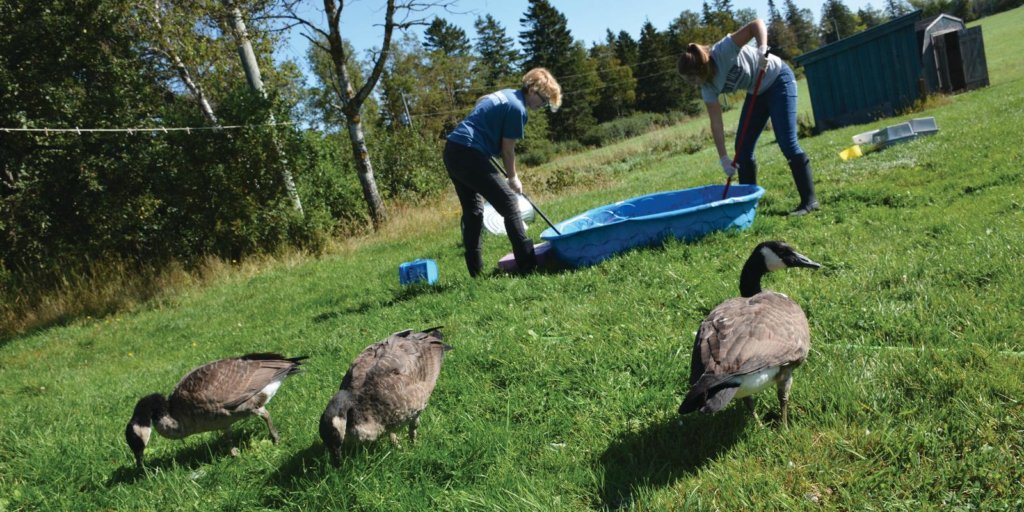 Mount Allison students Lisa Hanselmann, Arianna Woodley and Lou Douglas have been nominated for the FutureReadyNB Student Excellence Award, along with fellow student Raven Elwell for the FutureReady Wabanaki Student Excellence Award. FutureReady is a collaborative program that connects students to small business or not-for-profit employers in New Brunswick. Students are nominated for the award based on the quality of their contributions to their workplace. Twelve students have been nominated in total, coming from St. Thomas, University of New Brunswick, Université de Moncton and Mt. A.
Lisa Hanselmann is a fourth-year honours psychology student who interned at the McGrath Boyd law firm as a legal researcher and technology assistant this summer. Hanselmann researched case law to help prepare lawyers for their upcoming cases.
"I would have to go through all the New Brunswick and Canadian case law to find cases that related to our case so that we could use it in court," explained Hanselmann. "I also did that for contracts and corporate law, a lot of different topics." Hanselmann also helped her supervisor draft documents: "We did affidavits, divorce documents, wills and an appeal book."
"I'm trying to get into law school right now. Getting this hands-on experience was so beneficial… it also gave me a really nice reference for applications," said Hanselmann. "I knew what law was based on TV shows, which isn't a very accurate representation of law. Actually being able to sit in an office and see the types of cases you handle, the workload, learning about how you have to structure your arguments and how to write legally … being able to learn that before going to law school gives me a bit of an edge and makes it less scary for next year," she said.
Arianna Woodley is a fourth-year aviation and geography student who interned this summer at Community Forests International (CFI) as an ecosystems intern. Woodley managed a crowdfunding campaign for CFI's Plant for Pemba project.
"There are things that I didn't expect that I could do but I ended up doing them," said Woodley. "For example, building a website. It challenged me and I like challenges. I did a crowdfunding campaign and I did not have experience in that. This was the first year that we made our goal, so that was rewarding."
Woodley also successfully promoted CFI's film Kokota: The Islet of Hope. "Mainly I worked with the communications team, so I would follow up on different leads that they had with a film," she explained. "I was promoting it across Europe as well as North America. It was shown at a couple conferences in Europe."
The internship at CFI boosted Woodley's confidence entering the workforce. "It gave me something to look forward to," she said. "It helped me reflect and understand that I can do anything if I put my mind to it. I just need to fine-tune those small details and I can probably make a career out of it."
Lou Douglas is a fourth-year biology student who interned at the Atlantic Wildlife Institute (AWI) this summer. Douglas has been volunteering at AWI since their first year at Mt. A, and worked there with a Student Employment Experience Development grant the previous summer.
This summer, Douglas explained, "I supervised and taught the other students day-to-day workings. I made sure all of the animals got fed and cleaned." Douglas also started a project creating an online database of all of AWI's records. "All of that information could be more easily submitted to the government for endangered species lists, and also potentially as a database for research for people researching human effects on wildlife," they said.
Like the other nominees, Douglas remarked on how this internship prepared them for life after graduation. "I want to work for non-profits. I want to make the world better in whatever small way I can. If I can do that through working with animals, I will do that. If I can do that by educating, I will do that," said Douglas. "I have a lot of potential pathways right now and I am trying to figure out what I want to do, but working for a non-profit like AWI is my dream. This internship allowed me to experience that and see that this is something I can actually do. Learning to take a leadership role is valuable no matter what I'm going to do with my life."
Raven Elwell, a fourth-year environmental science student, was nominated for the FutureReady Wabanaki Student Excellence Award. This FutureReady award recognizes Indigenous students in New Brunswick who participated in an experiential learning opportunity this summer.
"My internship was creating a couple of on-campus Indigenous gardens and also making the Indigenous plants we have on campus known, which was done by assigning signs to certain plants," said Elwell in an email.
"The experience was valuable because it's part of my culture, and being able to share my culture with the school and everyone who attends is a great way to start Indigenizing Mount Allison," she said.
The winners of the FutureReadyNB Student Excellence Award and the FutureReady Wabanaki Student Excellence Award will be announced on Nov. 12 at the FutureReadyNB Gala in Moncton.