Mounties to play top team UNB Sunday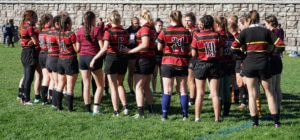 The Mounties women's rugby team have already played half of their conference games with a 1-2 record. The Atlantic Collegiate Athletic Association (ACAA) has a short but sweet rugby season that begins in early September with the championship held in early November.
The team had their last game at home on Sunday against St. Thomas University, their biggest rival and closest competitor. The Mounties lost 41-26. Mount Allison's Victoria Sim scored three tries and Selina Gaudreault scored one. Conversions were scored by Katie Hess, Kelsey MacKinnon and Gaudreault.
Kim Sinclair, the head coach, has been involved with rugby for the past 20 years and has coached at Mt. A for the past six. "Our returning players are showing very well this year and we have a really talented group of first-year players coming out," Sinclair said. "So, we have more depth and we definitely started with the bar a little higher this year."
Sinclair also coaches high school rugby in Moncton. "I do push the university team a little harder – they're older, they're more experienced," she said. "Even if they haven't started playing rugby at a younger age they have played other sports, so when they get here I find they're more committed, so I definitely push them harder."
Kaylee Wilmot-Joe, a rookie scrum-half, said that Sinclair "pushes us to do our best all the time, but she knows there's lots of new people learning too."
Sarah Chisholm, a fifth-year commerce student who plays flank, also spoke of the potential that the team has moving forward. "Everyone is keen to learn which is good. I think it's really great for a rugby team and it'll lead to a very successful future," she said.
"Rugby is a large team sport and it's very team-centred," Sinclair said. "When you start playing rugby it becomes your second family. For some of them it's their first family. Especially with the short, intense season, they spend a lot of time together."
Chisholm said the team is encouraging and supportive of one another both "off and on the field."
In the ACAA, teams play with 15 girls on the field: eight forwards and seven backs. This means rugby teams have to be large due to the amount of injuries that may occur.
As a full-contact sport with a short season, the team realizes that injuries could determine the fate of their season. Coach Sinclair said maintaining, handling, preventing and coming back from injuries tends to be a struggle for the Mounties.
The Mounties women's rugby team plays next Sunday at home against UNB, the reigning ACAA champions, at 4 p.m.