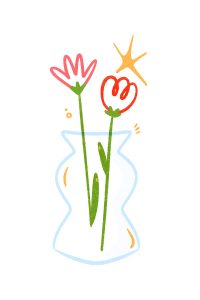 When I was a child, I told myself: someday I will be a big kid, and have parties whenever I want! I also thought I would be a reality TV star. While some dreams are taking longer than expected, spending time with the people I care about has been a joy. But like many young adults, learning how to host events is a learning process. Hosting can be overwhelming, and almost anxiety inducing at times. So to ease you in, and hopefully plant an idea or two in your head, here is our two cents on holding legendary parties: The Argosy's event-hosting bible.
What kind of event can I have?
Cocktail/mocktail night: Guests are invited to assemble unique boozy or non-alcoholic drinks following a theme. We suggest: ex-partners, colors (with matching outfits), professions, degree/majors, or favorite movies. 
Zine making/collages: Prepare your space with scrap paper, old magazines, glue, scissors, and whatever other craft supplies your heart desires. Zines are an easy form of self-expression, and templates are available online. Get philosophical with snippets from Martha Stewart Living, draw your friends with sharpies from varying distances, write a poem, share every secret you have ever had, glue flowers to the page and draw people out of them. The options are endless!
Cooking and eating: Nothing brings people together like making food. I remember my mother's Dutch friends making pizza at the local baker's house, sharing culture and flavor in a home away from home. We suggest customizable, hands-on recipes like pizza, for which dough can be prepared beforehand, nachos, build-your-own-taco/rice bowls, baking cookies, muffins, and of course, the beloved potluck. For the latter,  ask guests/friends a day or two in advance about what they are bringing (to balance sweet and savory) and if any guests have severe food restrictions that require special attention.
Prom/Fake wedding: A fancy semi-formal celebration with friends and loved ones promises serious fun without the pressure of the real thing. Go as genuine or parodic as you would like. In all seriousness, many young adults had their high school proms and similar events interrupted by the COVID-19 pandemic. But why waste the clothes? Go glam. Go camp. I recently attended a faux wedding with speeches (roasts) and all. It was held close to midnight, arranged that morning, and was hosted outdoors. The dress code was kinky clown. And by God, we delivered.
There are many other ideas out there. Holiday gatherings, birthdays, celebrations of any kind or just getting together to enjoy each other's company. Seek Pinterest or blogs for more ideas. You do not necessarily need a theme, just get your buddies together and hang.
Our favorite party games:
For the Girls: Card games. The goal: get as many cards as possible, selecting one-by-one from six different categories: Never have I ever, truth or dare, best of the best, most likely to, and rapid fire! Pros: Easy to learn, easy to play. Can be abandoned for chunks at a time, players can leave or join halfway. Keep in mind: This game is intended for grown-up players. If hearing about your guests' sexcapades is not the vibe, then maybe pick a different game or set question rules.
Cain's Jawbone: Who-done-it paper puzzle. Get red string, scissors and corkboard! Originally published in 1934, this murder mystery is classically presented as a 100-page novel spanning six different murders — but the pages are out of order. Pros: Suitable for a smaller group, thought provoking, cool points all around for cutting open the book and rearranging the pages, and will almost certainly span multiple nights. Keep in mind: This mystery is infamously difficult to solve. Jawbone is all about the journey, not the end.
Jackbox party packs: great for groups of any size, as long as someone can host on a device and everyone has a screen. These games spark inside jokes and general insanity.
Drinking Games: Beer pong, king's cup, truth or drink, ride the bus, movie drinking games (take a sip every time _____  — search online for examples).
Standard card deck games: Crazy Eights (for which the variables are limitless), Seven Up, Cheat/Bullshit, President, and many more.
General guidelines:
Music: it seems obvious, but well-picked tunes can hype up an energetic crowd, provide ambience for deep conversation, or smooth over awkward moments. There are playlists available for every vibe on Spotify and YouTube. Appointing someone a DJ for the night can also be a lot of fun.
Have snacks ready: Good food, even for a late noon or evening event, can make or break a party. We suggest finger-foods. Examples include hummus and veggies, cheeses, crackers, fruit, chips or fancier items such as charcuterie boards, air-fryer dehydrated fruits, or home-made bread-dipping oil. The same applies for drinks. Think ahead about cleanup like where used dishes go! 
Appoint one or two trusted people to help set-up and avoid awkward first guests. With the right people, this can be just as fun as the main event!
Try new things: If our generation has any hopes of growing into functional adults we must battle our social anxiety with everything we have. Also, nobody expects perfection! Surrounding ourselves with the people we care about is the most important thing.