Graduates exhibit work on campus one last time
Although the fine arts graduating students' exhibit is an annual event, one would be mistaken to characterize it as repetitive. This year, the show features several talented soon-to-be alumni exhibiting their "swan songs," as per the title of this iteration of the exhibit. While each piece is unique in subject matter, medium and content, they are united by their shared experiences and contexts.
The experience of putting together an exhibition, in and of itself, is a valuable one for students. "I think it's a really great opportunity to share our work on a platform that our peers and the broader community can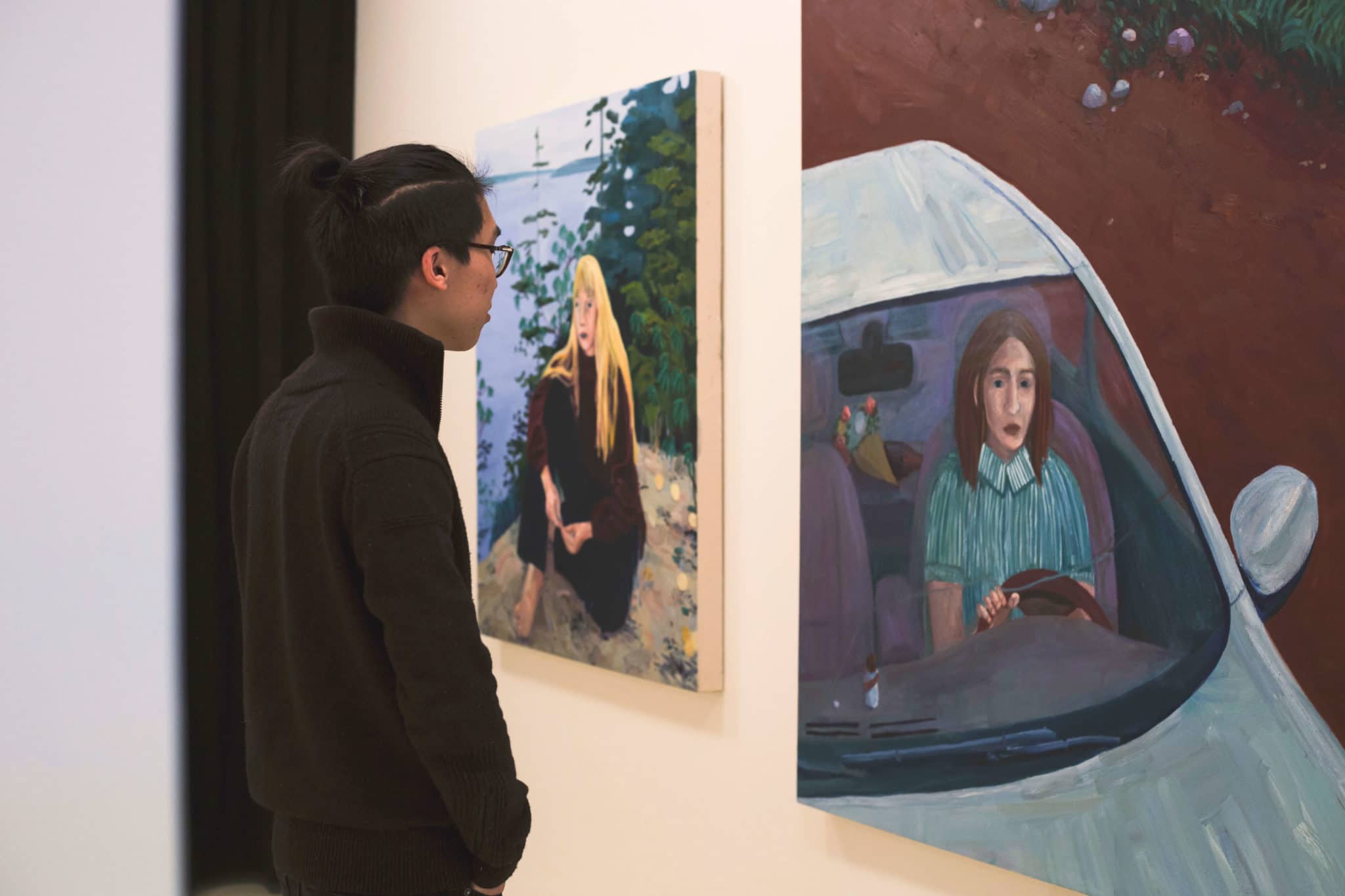 access," said exhibiting artist Lucy Koshan. "It also feels really good to see the work out of the studio."
Several students' work addresses subject matter they've worked through both in their studies and personal lives over the course of their degrees.
"While gathering for this show, I chose work that I feel speaks largely to how I am continuously working – not just on this series but also looking at much of my work," said Jennifer McKelvay on her exhibited work. "As through most of my work that I have created in my last two years at Mount Allison, I have been looking at relationships: between myself, friends, family and men."
McKelvay, who is showing a selection of images from her larger series titled This Is Where My Heart Breaks, said that her photographs "look at the theme of the mundane."
Gabrielle Johnson, another graduating student, is also exhibiting work that speaks to larger themes in her life.
"Over the course of my time at Mount Allison, I was able to go spend a summer in Iceland on a program … that aims to reconnect people with Icelandic heritage back with their roots," said Johnson. "I was reconnected with distant family and this experience has had the greatest impact on my art practice." She has returned to Iceland more than once since her original trip, and new bodies of work have resulted from each visit. "The Mount Allison fine arts program has allowed me to explore my connection with Iceland through painting, sculpture and most recently photography," she said.
Other students, including Sarah Rollins and Andreas Fobes, are showing work that speaks to their exploration of specific subjects and media.
"This works encompasses the themes of sentimentality and nostalgia which have appeared in a lot of the work I've made during my time at Mt. A," Rollins said of her vividly colourful painting.
Fobes's work epitomizes his experimentation with stop-motion animation throughout his degree. "With this project I wanted to try and make something a little slower and simpler. As far back as second year I'd had these vague ideas of animating some kind of musical performance," Fobes said. "Those ideas eventually developed into this project, with the 'performer' being this puppet of myself and the music being audio of me practicing my guitar, which I had been recording in various locations for around a year."
Logan Milne's work is connected with the wider Sackville community as well as the student presence in town. "Someplace in Sackville and 110 Days of Walking reprsesent one year's worth of self-exploration through a daily commitment to walking in Sackville," explained Milne. "I chose the Sackville landscape as my focus because the memories made here are both emotionally and physically connected to the land itself."
Milne said she worked to depict the connection she held with the physical world around her. "I believe that the body is an extension of the landscape, and as rug hooking demands a lot from the body, I view each hook that I make with wool to be a declaration of love, a continuous pursuit to understanding exactly what went on during my time here."
Sylvan Hamburger's piece consists of 42 jigsaw prints fitted together. Although they are displayed together at the Owens, Hamburger's work involves the larger Sackville community as well. He has reproduced individual prints to be posted in various locations in Sackville as an engagement with the wider cultural community outside of the University.
The Sackville community welcomes students for the duration of their degrees and its role is easy to spot in the work they create. However, the way students affect the town can be less apparent. While their presence here is often temporary, students' work can impact the nuanced relationship between university and town, as well as individuals both in and outside of Mt. A's academic bubble, long after their departure.
See Swan Song on the second floor of the Owens Art Gallery until June 24.