Metallic outlines what she considers to be the most significant barriers to reconciliation
On Feb. 1, Naiomi Metallic spoke about Indigenous law as the sixth part of the President's Speakers Series. Metallic is an assistant professor at the Schulich School of Law and the Chancellor's Chair in Aboriginal Law and Policy. The topic of her talk was "the three big barriers to reconciliation."
Anthropology professor Paulette Steeves introduced Metallic. "She has been an amazing role model for many students who have dreams and hopes to be a part of work to improve the present and future for First Nations people. She is a model of how First Nations scholars actively work to support healing and human rights for Indigenous communities throughout Canada and the world," Steeves said.
The first barrier to reconciliation that Metallic spoke about was "the myth that Canada respects human rights." Metallic explained the human rights of Indigenous people are often disregarded. She said, "There are massive human rights abuses ongoing every day in this country right under our noses and most people are completely oblivious to that fact."
According to Metallic, when looking at the 10 poorest postal codes in Canada, seven are from New Brunswick, and six of those come from Indigenous reserves. Metallic stated that the root of these issues is government neglect. "[Indigenous people] have been in a situation where really neither the federal government or the provincial government have been quite interested in stepping up to the plate and playing the primary role," she said.
The barriers to addressing these human right abuses come from ideas about where funding goes in Indigenous communities, as there are many misconceptions about how the money is used. "There are really pernicious stereotypes that are at the bottom of these issues," said Metallic.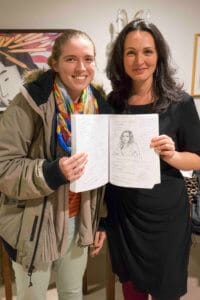 The second barrier that Metallic spoke about was Section 35 of the Constitution Act. Metallic explained that this section of the act deals with land claims and self-governance of Indigenous communities – when there is no self-governance, there are poor living conditions and extreme poverty on reserves.
In Metallic's opinion, the third barrier to reconciliation is the pervasive idea that colonialism is too complicated an issue to solve. Metallic explained that this idea often stems from people being ignorant and choosing to not educate themselves on Indigenous law and policy. She said, "It's not as if we're starting off from scratch.… It's not that it's too complicated to solve." Metallic said that reconciliation would come down to the sharing of power and resources with Indigenous peoples. Additionally, there needs to be transparency and accountability by settler governments to Indigenous peoples. "That's what reconciliation is – it's changing the imbalance," Metallic said.
Mel Cobey, a second-year student who wants to study law in the future, said, "There were really interesting facts, which she made sure to go into detail about. There was a bit of a history lesson about reconciliation, which I think is really important to know."
Metallic finished her talk by outlining what reconciliation would look like at Mt. A. One of the suggestions that she offered was to engage in meaningful consultation on matters affecting Mi'kmaq and Maliseet people as levels of government. This would involve faculty, staff and students at the University.
The event ended with a statement from President Robert Campbell. "As much as we want to talk and think and feel good," he said, "it's going to take changing constitutions and changing laws and going to take some real action."