Student-made podcast shares the science of and coping strategies for stress and burnout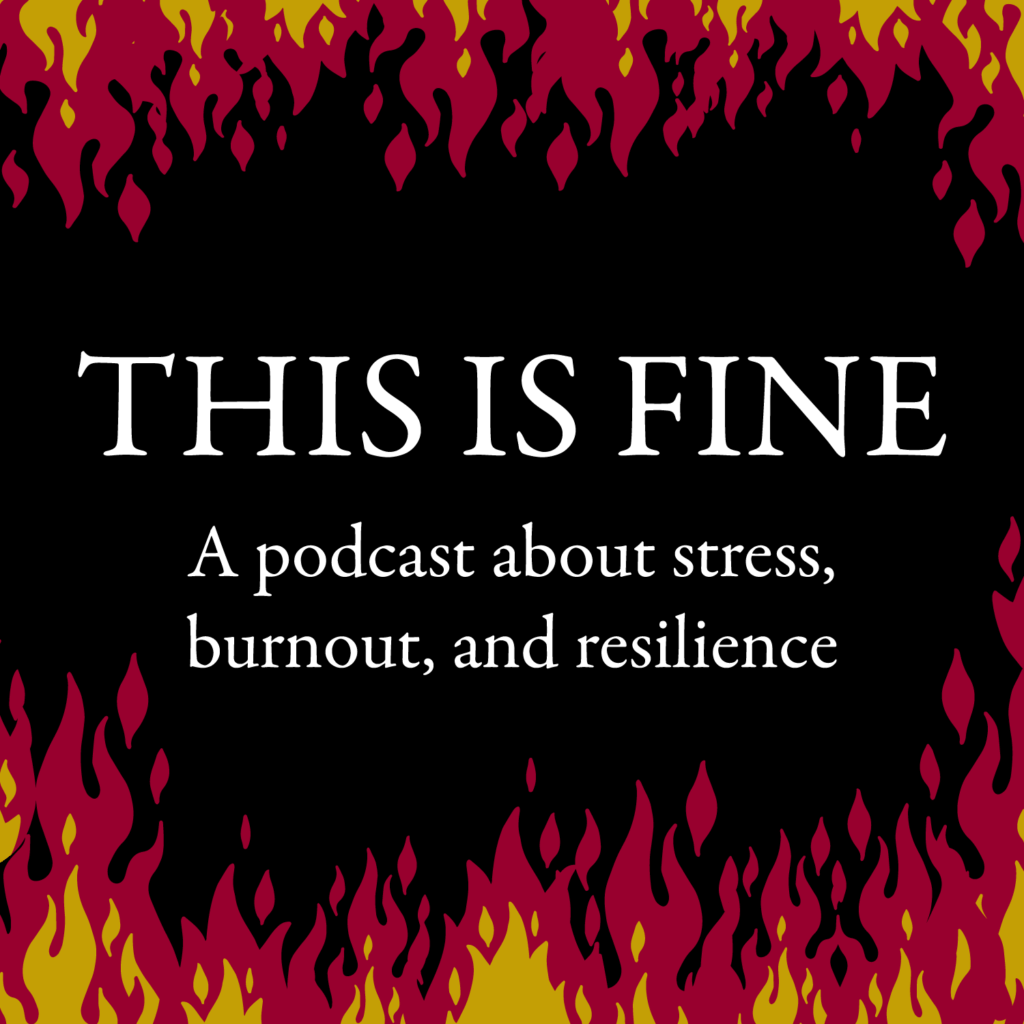 University students are, in the best of circumstances, well-acquainted with stress. The year 2020 was certainly not the best of circumstances, so what better year for a course on stress and coping with burnout? In the fall term, Dr. Lisa Dawn Hamilton, an associate professor in the psychology department, taught a fourth-year psychology seminar—Stress, Burnout, and Resilience—which encouraged students to learn from, educate, and engage with their peers on topics related to stress in their own lives. The final project? "This Is Fine: A Podcast About Stress, Burnout, and Resilience," a podcast created by her students with the goal of sharing the science studied in class in a creative, engaging, and accessible way.
The inspiration for Hamilton's seminar was Emily and Amelia Nagoski's book "Burnout: The secret to unlocking the stress cycle," which "takes a feminist and scientific approach to talking about stress and has these really practical suggestions for how to deal with and think about stress," said Hamilton. Immediately after reading it early last year, Hamilton said she thought that all her students should read it too. Students in Hamilton's seminar explored sources of stress and burnout, including structural factors like poverty, intergenerational trauma, racial injustice, and addiction, and burnout in healthcare careers. "We rounded out the semester talking about resilience, how we can build resilient humans, and strategies for kids and adults," said Shannon Reid, a third-year psychology student.
While there were weekly readings, the students were mainly the ones researching and presenting the information to each other. "It was nice to dig really deep into a topic and be the source of knowledge for the class," said Reid. They then took the information they had formally presented and distilled it from scientific jargon into a more understandable format: a podcast. "I really like communicating and sharing knowledge in that way, that's very accessible," said Hamilton. "I think that's a really important skill, to take complex ideas and translate it into everyday language. The students did an excellent job of it." After receiving feedback from their peers, Hamilton, and workshopping with a broadcasting professional, the podcast scripts were ready to be recorded and published.
Each of the sixteen episodes touches on a different topic related to stress, burnout, or resilience. Fourth-year psychology student Madelyn Isenor-Ryan's episode is entitled "Self-Compassion 101" and addresses an important tool for resilience, self-compassion. "It is similar to our mainstream ideas about self-care, but it extends further than this," she explained. "It's about treating yourself with kindness when you're feeling inadequate or are experiencing some kind of general suffering." Positive self-talk is important, but challenging. "It's so much easier to be critical or talk negatively about yourself than positively," she said, adding that negative self-talk is often more destructive and stressful than we realize. As a student tackling new stressors every day, Isenor-Ryan found this course and project very beneficial. "After taking this class, I feel like I've learned so many useful tools and now know how to better manage stress, and how to better prevent burnout," she said. "It's made a huge difference in my life already."
Molly Hospers, a fourth-year psychology student, addressed emotional regulation as a tool for resilience in her episode, "Taming the Tiger," and explained that "managing one's emotions is such a personal experience that is intimately linked with how we interact with the world." For Hospers, the engaging and community-driven nature of the seminar was enjoyable and helpful, for both academic and personal learning. "In most courses you try to remove yourself from the subject and learn objectively, but in this course I found it quite the opposite," she said. "Each class started with a check-in. Everyone would submit one word of how they were feeling, or this sometimes alternated with 'What are you proud of this week?'" This sort of interaction made the distanced learning class engaging, personal, and close-knit. "When we see big commercials or ads online about the importance of mental health it's pretty easy to ignore, but when we actually have to research it and discuss it and carefully consider it? It becomes a whole new aspect of your life," she said.
Shannon Reid's episode, "The Benefits of Acute Stress," presented some ideas counter to typical perceptions of stress. "We are taught to always avoid stress, told we shouldn't be stressed and to destress, but in the grand scheme of things, stress is one of the reasons why we survived as a species," she said. "It pushes us to change and adapt and be better." In terms of evolution, acute stress kept us aware and alert. It can boost our immune system and make you resistant to greater stressors at other times. Reid enrolled in the course having experienced stress and burnout after starting a business, a family, and being a mature student. The most important thing, she said, is "recognizing when acute stresses are helpful and using that to grow, and recognizing the harm being done in our bodies and minds when chronic stress isn't managed."
 "I decided to take this class because we all experience stress and I thought it was something that would benefit me in the long run to learn about," said Emma MacMillan, a fourth-year psychology student. Having been involved in sports growing up, she was interested in the relationship between physical activity and stress in her podcast episode "Let's Get Moving!: Physical Activity and Stress." "Physical activity is a stressor to our bodies since it challenges your body's homeostasis, but also when we are stressed physical activity is the best way to complete the stress cycle," she said. The stress cycle involves "telling" the body that after a stressful situation ends we are safe, something difficult for stressors like exams or social anxieties. In her episode, MacMillan explains how physical exertion and the social aspect of exercise can help complete this stress cycle and alleviate stress.
"Learning how to cope with stress and to manage it in healthy ways are skills. Communicating about these skills can empower people to feel more in control of their lives," said Hamilton. "It is particularly relevant this year because of a blanket of chronic stress and anxiety hovering over us all the time." One of the podcast's goals is to show that stress is not a taboo topic to be avoided. "I didn't realize how much people feel the same as I did until we started talking about it. I think being open is so important to understand each other and our difficulties with life," said MacMillan. Students are encouraged to listen to the podcast to learn about the science of stress, strategies for coping with burnout, and tools to develop resilience. One key theme from the book, seminar, and podcast is self-kindness—something emphasized by Hospers, who shared a quote from the Nagoskis that encompasses this sentiment: "When you are gentle with yourself, you grow mighty." 
"This Is Fine," consisting of sixteen twenty-minute episodes, is available for listening wherever you listen to podcasts, and episode scripts are available on the Mount Allison website.