With warm lighting and electronic candles on every table, this fundraiser gave the Pond some much-needed ambiance. On March 13, Mt. A's Eco-Action club hosted an open mic night in support of Sackville Food Bank. Many students came out to show their support and take the stage. 
Eco-Action is "a group that focuses on environmental activism and its accessibility to students." They aim to create "a space wherein students can discuss environmental issues and take action on said issues by creating awareness around campus and in the Sackville community." One of the ways they take action is through events like this one.
To fundraise for Sackville Food Bank, the Eco-Action club charged either $2 admission or one food donation. Sackville Food Bank "is just one of over 62 food banks, kitchen's and nonprofits in New Brunswick supporting food security" said Ainsley Skelly, third-year Canadian studies major and the club's communications representative. The food bank "depend[s] mostly on food donations from the community," says Skelly. The night ended with a box filled to the brim with food donations. I could've predicted this outcome based on turn-out alone. I haven't seen the Pond this packed on a Monday night in who knows how long.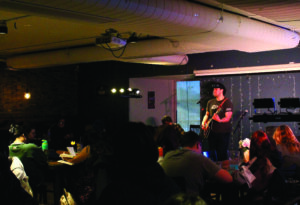 As the evening's MC, Skelly's infectious energy lit up the room. Her ad libs in between sets could've been a comedy performance of their own. The night kicked off with Charmaine Serrano, one of the club's members, who sang two original songs: "Two Peas in a Pod" and "A Conversation with the Self." Other performers included 204, Jud Gunning and Skelly, who closed the night with a song. 
This event provided an opportunity to support a good cause while connecting to the community. Nothing brings people together quite like music and supporting your local food bank.
To further support Sackville Food Bank you can drop off food donations to the food bank (9B Willow Lane), the community cupboard or donation bins located at Foodland and Rose's Your Independent Grocer. Visit sackvillefoodbank.ca for more information.