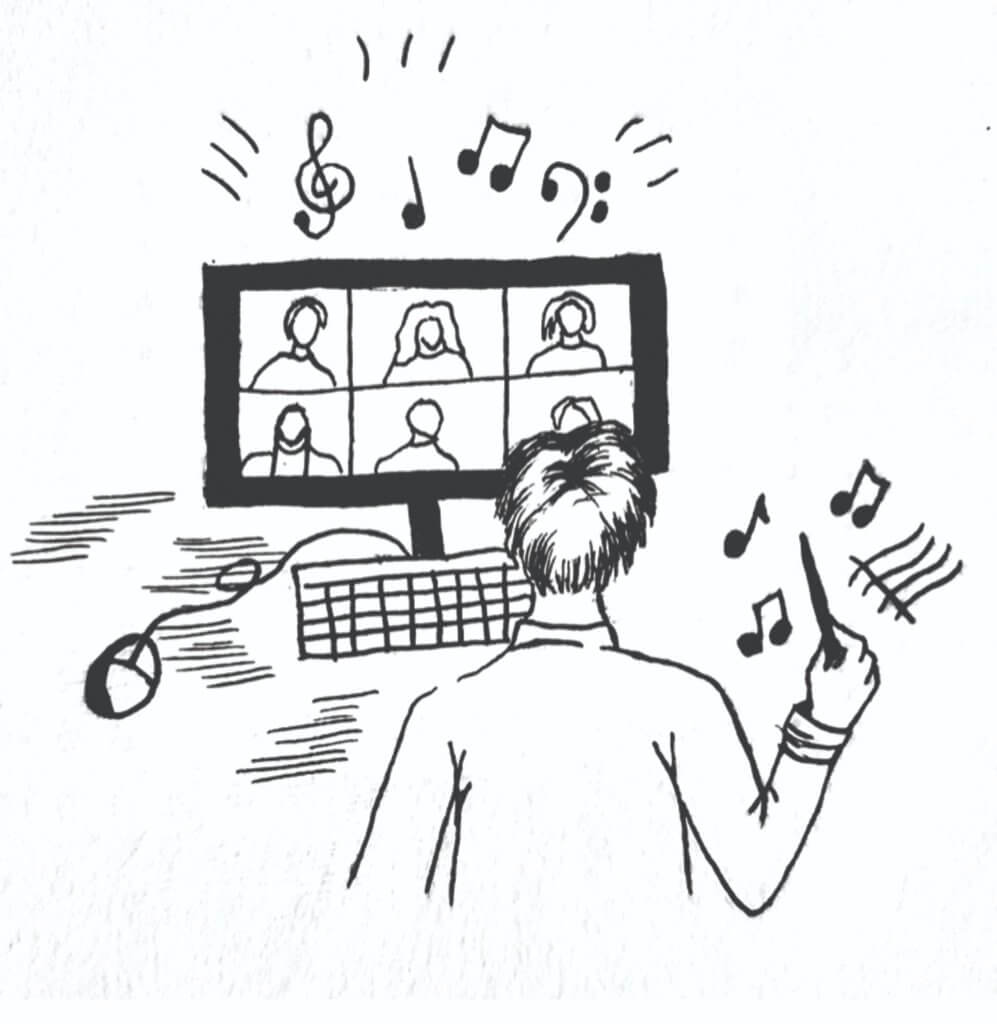 It is not news to anyone at this point that musicians, especially singers, have been hit hard by the restrictions put in place thanks to COVID-19. In her first year of teaching at Mount Allison University, Dr. Galway was given the difficult task facing all choral directors this year: how to safely, yet meaningfully, continue to run a choir. I spoke to Dr. Galway about her plans and visions for Choral Society this year. She emphasized how fortunate we are here at Mount Allison to be able to run in person practices at all, given that "most other university choruses across the country are doing at least a hybrid setup [meaning some rehearsals in person and some online], but most are doing all virtual."
As opposed to regular years where Choral Society rehearses all together every Tuesday from 7 to 9:30pm, this year there are too many people in the choir to rehearse in one room all at once, so the choir has been divided up into two smaller groups. The SATB (soprano, alto, tenor, bass) configuration rehearses from 7pm to 8pm, and the SSAA (soprano 1 and 2 with alto 1 and 2) configuration rehearses from 8pm to 9pm, with both groups having to move into different rooms after the first half hour of their rehearsal time to allow for safe air flow. 
As Dr. Galway mentioned to me, "there is technically an extra 20 minutes of rehearsal time [which] we may start using again. . . [for some] sort of guided individual practice sessions, so that people can rehearse during the week, and maybe do some listening." Dr. Galway also mentioned the possibility of adding additional pieces for people who want to challenge themselves, as well as recruiting students to be designated section leaders, and giving them small rehearsal plans to run themselves.
Another barrier facing choirs this year is the lack of performance opportunities. Dr. Galway does have some exciting ideas in the works for performance-like opportunities and is "hoping that we'll be able to do a recording of at least two of the pieces that we're working on and release them kind of midway through the term. . . and a recording of a couple of Christmas videos. . . as a little pick me up to people in the community, and for the singers to be able to create something and put it out in the world, which we haven't been able to do since March."
 In addition, she is working on a secret project that she is hoping to get off the ground this term. There are challenges that come along with this new kind of music making, the first from Dr. Galway's point of view being building community. "It's really hard to build community with the amount of time we have in [our current] setup." It is also hard to maximize rehearsal time within a half an hour because "you don't have time to touch base with anyone. . . when we do the split [and] I'm in one place or the other, [it is hard to] feel like I'm giving adequate mentorship to those who are going to be starting to lead sectional rehearsals."
Despite the hurdles choral musicians are having to face, Mount Allison is very fortunate to have dedicated professors such as Dr. Galway working so hard to make the best out of the situation we have been given. "Choral singers love to sing so much that we will make it work; we'll make it work in any scenario and enjoy doing it."